Gænger
2018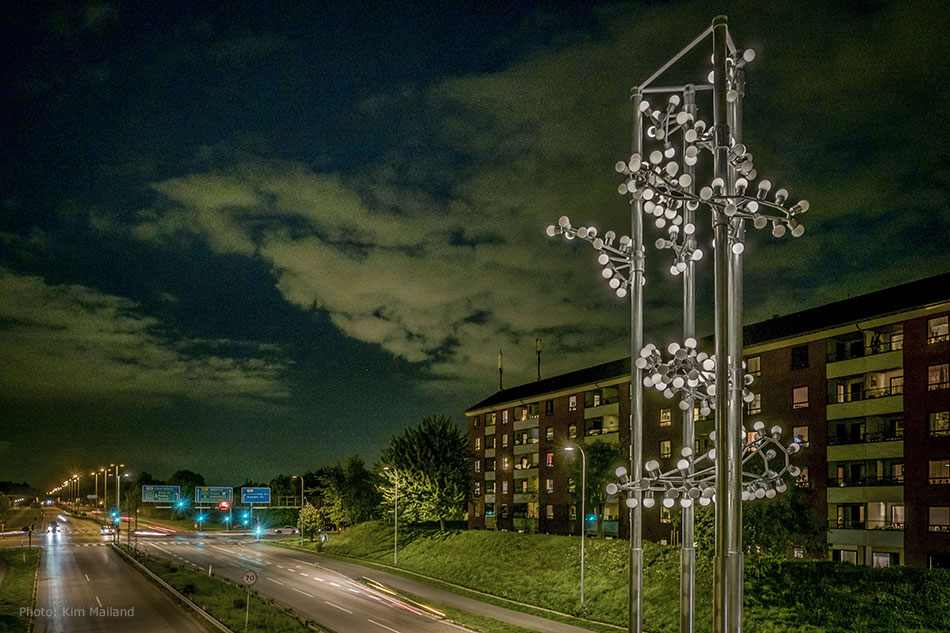 Gænger ("Walker") is a permanent outdoor installation in the city of Vallensbæk.

A 13 meters high steel structure carries 12 curves with 6 or 18 white light sources each. The light is faded in and out in a sequence controlled by traffic on a nearby pedestrian bridge.

The curves are modeled after a motion capture of a young person walking. When the speed of the sequence goes beyond the persistence of vision, the experience of the light goes from single fading lights to the perception of motion: A volumetric 3D representation of a walking figure.


Supported by:
Danish Arts Foundation
The city of Vallensbæk
Niels Peter Lynges fond
Production:
Project coordinator: Jørgen Kreiner-Møller, architect maa
Architect: Frederik Emil Seehusen, Cand. Arch, maa, arb.
Engineer: Anders Christensen Aps
Technique: Gadget Group
Blacksmith: Herfølge Kleinsmedie A/S

Project Group:
Jytte Bendtsen, Annette Hein-Sørensen, Søren Wiborg, Eva Steen Christensen, Ane Mette Ruge, Louise Straarup, Merete Lisbeth Kieme, Johanne Høgsholm, John Sørensen, Kristine Klæbel
Special thanks to:
Salomet Grafik
Architecht Ali Tabatabai
Katja Bjørn
Sfera Labs, Milano
Fred Sapey-Triomphe
Elektriker Bjørn
IxD Lab, IT University of Copenhagen