Corrected rules and slogans
2021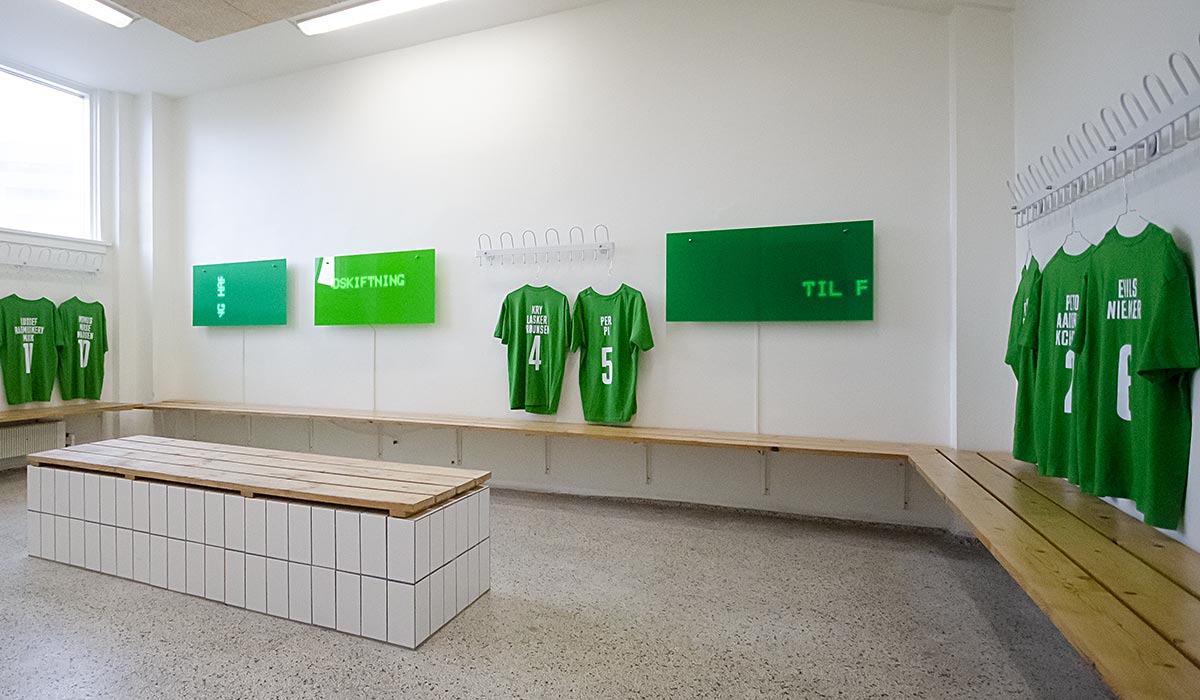 Mogens Jacobsen created a text-based universe for the art space Skjold Contemporary located at a changing room at the Skjold Football Club in Copenhagen.

The LED signs
The texts of the signs are written by artificial intelligence. The AI-system is trained on DBU's (Danish Football Union) football rules, the UN Sustainable Development Goals, the Danish Constitution, and the infamous current family legislation in Hungary. By combining these constituent texts, new rules for the game of football are outlined.
Acrylic plates, LED signs, microprocessors
3 pieces. 100 x 50 cm and 1 pc. 60 x 120 cm

The mirror
The mirror examines what football is, by searching the web for the Danish phrase "Fodbold er" ("Football is" in English). The search results are read aloud by a synthetic voice behind the mirror. The surface of the mirror acts as the speaker membrane.
Fluo-green mirror, wood, microprocessor, amplifier, audio transducer
48 x 32 x 5 cm

The shirts
Eleven T-shirts hang in the room. Each is decorated with a fictitious player name. All the names are algorithmically generated based on an analysis of the combination of characters in the names of all Danish national team players since 1908. The algorithm uses a k-gram-2 Markov process, where each letter is selected statistically based on the two previous letters.
11 pcs. T-shirts with print

Skjold Contemporary

This show is part of the "Art of Sport - Onside" collaboration between Copenhagen Contemporary and Skjold Contemporary.
Thanks to:
Frank Altschul
Skjold Contemporary'
Salomet Grafik
Assistant:
Thomas Flodgaard Kaufmanas

Supported by:
Danish Arts Foundation