Cube (Ghost)
2008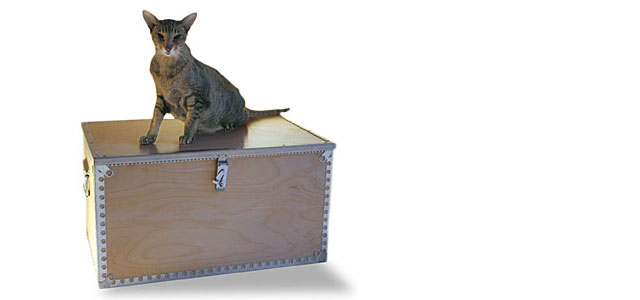 "Cube (Ghost)" is an installation inspired by the famous "Schrödingers Cat" experiment.
This thought-experiment from 1935 by German scientist Erwin Schrödinger is often described as a paradox telling us there is something wrong in the way we usually understand reality, and have fostered the many-worlds interpretation of reality by scientist David Deutsch.

In "Cube (Ghost)" the experiment is staged in two parallel spaces: Second Life and the (physical) exhibition room.

SLURL LINK: http://slurl.com/secondlife/The Raft/48/95/24 (now defunct.)
"Man kann auch ganz burleske Fälle konstruieren. Eine Katze wird in eine Stahlkammer gesperrt, zusammen mit folgender Höllenmaschine: in einem Geigerschen Zählrohr befindet sich eine winzige Menge radioaktiver Substanz, so wenig, daß im Laufe einer Stunde vielleicht eines von den Atomen zerfällt, ebenso wahrscheinlich aber auch keines; geschieht es, so spricht das Zählrohr an und betätigt über ein Relais ein Hämmerchen, das ein Kölbchen mit Blausäure zertrümmert. Hat man dieses ganze System eine Stunde lang sich selbst überlassen, so wird man sich sagen, daß die Katze noch lebt, wenn inzwischen kein Atom zerfallen ist. Der erste Atomzerfall würde sie vergiftet haben. Die Psi-Funktion des ganzen Systems würde das so zum Ausdruck bringen, daß in ihr die lebende und die tote Katze zu gleichen Teilen gemischt oder verschmiert sind."
Erwin Rudolf Josef Alexander Schrödinger "Die gegenwärtige Situation in der Quantenmechanik", 1935.

Commissioned by:

The Tagging Art Group.

"Cube (Ghost)" was exhibited (under the title "Cubes") at the U.L.K. Gallery of the Danish National Gallery, 2009.